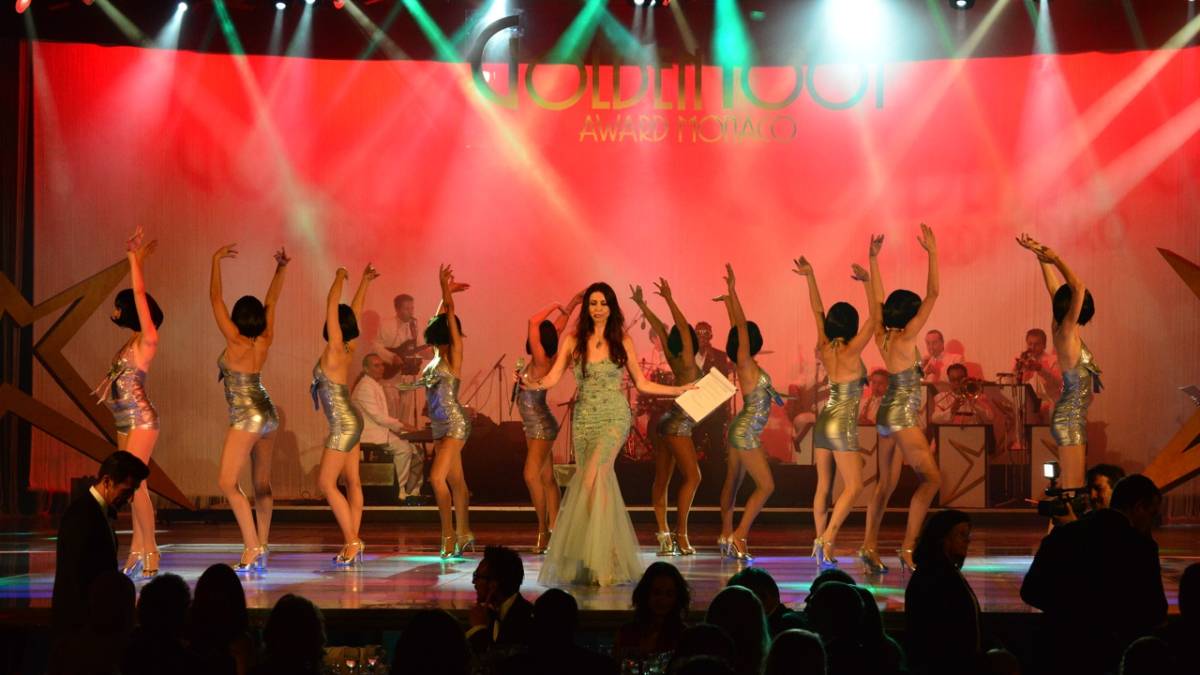 A unique Master of Ceremonies in 5 languages
When we speak about Lorena it's hard to give you a specific connotation, because she is what is described as a 360° performer. She is a unique Master of Ceremonies able to present in 5 languages and managing the whole event with the ability of a show-woman. Often accompanied by her corps de ballet and the orchestra she has been the master of ceremonies of major events. For example she has been Ambassadress and Master of Ceremonies for the Golden Foot Award Monaco (produced by her company Promo Art Monte-Carlo Production), presenting the event in 5 languages. For the 2012 edition she, with Jimmy Jean Louis, welcomed Princess Stephanie of Monaco and presented prizes to Ibrahimovich, Cantona, Baresi, Matthaeus and Pelé. In 2013, in the presence of Prince Albert of Monaco she gave awards to Didier Drogba, Osvaldo Ardiles, Carlos Valderrama and Jean-Pierre Papin with the participation of cinema stars Armand Assante and Tony Schiena. For the 2014 event, which lasted 4 days, she awarded Andres Iniesta, Mia Hamm, Jean-Marie Pfaff, Hidetoshi Nakata, Hakan Sukur, Antonin Panenka, Roger Milla. The event was broadcast on television channels all over the world. She was filmed in Doha, Qatar, for the launch of the 2014 Edition of the Golden Foot Award Monaco, with the partecipation of Didier Drogba. As well she was also the "godmother" and Master of Ceremonies for the Memorial Day Gala at the Theatre Toselli in Italy. For this occasion Salomon Bourke - the king of soul music and composer of "Everybody needs somebody to love", the famous song from the film "Blues Brothers"- came from America. 
 For "La Nuit Rouge et Blanc" ("Red and White Nights") at the Cannes Cinema Festival, she welcomed on stage Prince Albert of Monaco before an audience of VIPs.